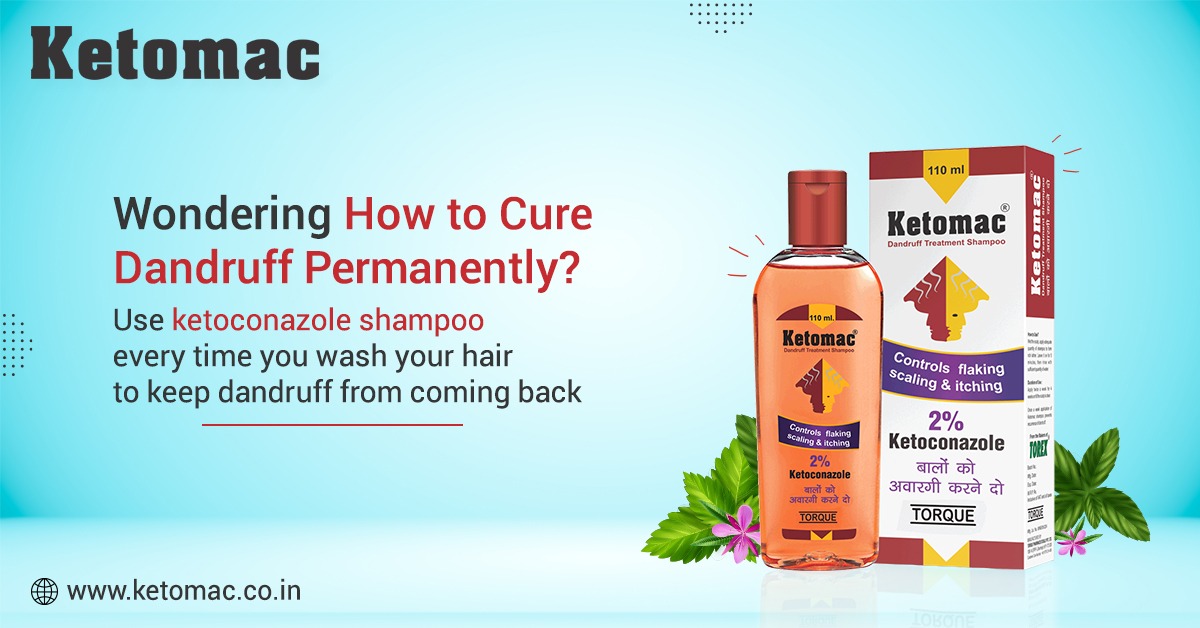 Dandruff can make you feel awkward and out of place. The itchy fits, embarrassing flakes on your shoulders, and the general discomfort can be quite annoying. You try countless anti-dandruff remedies and dandruff shampoos to avoid all of this. But to find a perfect dandruff remedy that works for your scalp, you need to understand the meaning and causes of dandruff. This will make the treatment much easier as you know the root cause and start the treatment accordingly. Millions of people across the globe face the issue of dandruff. Although dandruff is highly annoying, the good news is that it can be effectively treated. It is better to treat it when the first signs start because if they are left unattended, there are chances of developing a scalp infection. Therefore, please continue reading to know all about dandruff and the treatments that will help you cope with it.
What is dandruff?
When the skin cells of your scalp grow and die in a short period, it gives rise to dandruff. These dead skin cells can cause white and greyish flakes or oily clumps on your scalp to appear. Malassezia is a common type of fungus that may be one of the causes of dandruff. Flaking along with mild itching are the most common signs of dandruff. Dandruff can also manifest as red and greasy patches on your skin and a tingling sensation on the scalp. It can worsen in the winter season due to the dry atmosphere. Dandruff can be caused by several factors, including genetics and environmental factors. It can affect everyone in all parts of the world. If you have mild dandruff, then using a gentle shampoo can help with the treatment, but if that doesn't help, then you could go for a medicated shampoo.
What are the symptoms of dandruff?
Dandruff can be identified in several ways. The most common symptoms of dandruff are stated below.
Flakes: Visible flakes on your scalp or shoulders are one of the most common signs of dandruff. As a result of your allergy to oleic acid, the excessive skin cells of your scalp are shed in the form of visible flakes.

Itching: If you see someone in the street scratching their heads, it could be one of two things. Either they are in deep thought, or they are suffering from dandruff. Usually, this scratching results from dandruff because dandruff can cause irritation and itching to the scalp.

Redness: Excessive scratching due to irritation can result in redness on your scalp. This means that if you have redness on your scalp, it might be because of dandruff.

Dryness: The skin on your scalp is just like the skin on the rest of your body— it can get dry at times. The presence of dandruff on your scalp is responsible for breaking down the moisture-holding barrier on your scalp; this makes the scalp skin dry out quickly.
Tips for treating dandruff:
Look for products that will help you maintain your hair's condition and manage your hair better. · Right hair products: Your body is well aware of its requirements. It is straightforward to treat dryness, itching, and dandruff. Shampoos that have anti-dandruff properties and can provide your hair with some nutrition could be used to treat dandruff. There are many shampoos to choose from, depending on what your hair is like. You need to know about your hair and make a decision accordingly.
Regular hair washing: If you have successfully chosen the right shampoo for your hair. The next step that would help you get rid of dandruff is regularly shampooing your hair. It has been medically recommended that washing your hair twice or thrice a week with cold water is essential.

Diet: Every solution for a skin problem always comes down to diet. A healthy diet is essential for your skin and hair health. A balanced and healthy diet where you control your sugar, dairy, and carbs intake will help you improve your skin's overall quality and texture.

Haircare routine: A good and effective hair care routine can only happen if you have successfully identified your scalp and hair type. This will allow you to choose products that will help you solve your problem. In case you have dry hair, you have to choose an anti-dandruff shampoo that will get rid of dandruff and, at the same time, nourish your hair. Similarly, if you have an oily scalp, you will have to choose the 

best dandruff shampoo for oily hair

 

that will help you solve your problem and strengthen your hair.

Hygiene: Keep your scalp and hair healthy and clean. Ensure to clean up any excess sweat from your hair, resulting in the build-up of dirt on your scalp. Dandruff can grow if unwanted material remains on the scalp for too long.

Reduce stress: Internal factors are the main trigger for the allergy to oleic acid. A sedentary lifestyle and stress can increase dandruff which, in turn, will cause sores, itchiness, and redness on your scalp.
Ingredients that will help you treat dandruff:
Apple cider vinegar: ACV helps to restore the scalp's pH balance. It prevents the growth of yeast on your scalp. Moreover, it acts as a natural hair cleanser that helps clean hair follicles and clogged pores. To use it, you have to take 3 cups of cold water and mix two cups of ACV with it. Then use this mixture to rinse your hair after shampooing. Use this mixture at least once a week for the best results.
Garlic: One of the richest sources of salicylic acid is garlic. This is an ingredient that is commonly used in the treatment of dandruff. You can use this effective ingredient by creating a hair mask with garlic and honey. This can be done by crushing garlic cloves and adding honey. Use this mask on your hair and scalp and leave it in for 5 to 10 minutes. After that, wash your hair with a gentle shampoo.
Coconut oil: One of the longest used remedies for dandruff treatment is coconut oil. It is an effective medicine as it consists of anti-fungal properties. Heat this oil to a temperature you can comfortably tolerate, use a cotton ball to massage it onto your scalp, and then apply the remaining oil to your hair. Keep it on for about 30 minutes before shampooing your hair.
Onion: Thanks to the anti-microbial properties, onion is a great ingredient to get rid of dandruff. In addition to that, it eliminates toxins and improves blood circulation. Using this ingredient is by blending it into a smooth paste and applying it to your hair's roots and ends. Keep it on for almost 1 hour, and then shampoo your hair with a gentle cleanser.
You must be clear about dandruff and how to treat it. You need to know your hair and scalp type, and you will treat your dandruff effectively. For instance, if you have thin, oily hair, go for the best dandruff shampoo for thin oily hair. An effective product for dandruff is the Ketomac shampoo, which has excellent anti-fungal properties, thanks to ketoconazole, an active ingredient used worldwide for treating hair problems.