The Anti-Dandruff Shampoo- The Life Savior Hack For Dandruff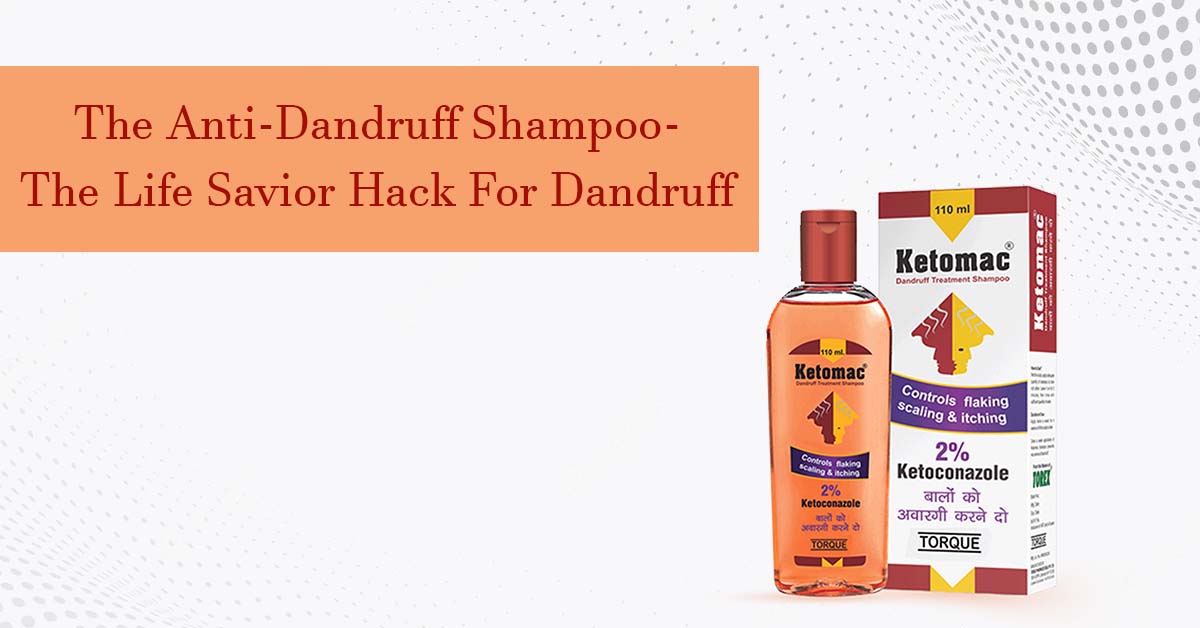 We all want our hair to look good all the time, but it is not possible. Not only this, but without trying hard, we imagine having longer and stronger hair. It seems impossible to get anything; you have to work for it. There are so many hair-related issues that keep us bothered, and we are not able to sort them out. But every hair problem has a solution when relying on the Ketomac hair product. 
You may hear about the dandruff problem often around you because one of the most common hair issues is this. The dandruff problem never comes alone; it brings further hair issues, including hair fall, dry hair, etc. Those suffering from it scratch their head like a kid as it makes our scalp itchy. This problem is quite common in men as well. Anybody can have this issue, even if we can also see the dandruff issue in infants. You can use anti-dandruff shampoo for men in India to treat the dandruff problem. The number of causes is too many, but some of them we should know about are-
Due to the skin condition: You may also face dandruff problems if you suffer from a skin condition like Seborrheic dermatitis. This skin condition may make your scalp itchy and cause redness. This condition may occur where the oil glands are present in our body. The symptoms can be different, but they symbolize the problem you are suffering. You must see or consult the doctor to get better advice. 

Caused due to an allergy: You may also face this hair problem if you have a sensitive scalp or skin. Sometimes we get impressed with the advertisements that we see on the internet. After watching those advertisements, we try to follow them immediately. When we see hair range products on television in advertisements that models or actresses perform, we assume them to be perfect. We try to use them on our hair, which can cause some allergies to our scalp. Not all hair products are good or healthy for our skin. Many of them contain chemicals that can further create problems. 
So, dandruff can be the cause of using such hair products. 
The problem of dry skin: The dry scalp or skin condition also comes under this. If you have dehydrated skin, ensure you are using hydrating or moisturizing shampoo or oil for your hair. The dry scalp problem can cause dandruff, which is so common nowadays. People with dry scalp also have a dry skin problems, most commonly visible through the dryness on their face, arms, hands, etc. In this, the dandruff problem is very obvious. 

Shampooing in the wrong way: We are still shampooing in the wrong way if we are not getting clean hair. There are many ways to shampoo our hair, but not all of us follow them. We go with our flow, which is insufficient for our hair. If you are not shampooing your hair correctly, you may suffer from this issue. 

Not use the right shampoo: It is not always about the technique, but it can also be due to the shampoo you use for your hair. The shampoo must be good enough to clean and solve your hair issues. For example, if you have a dandruff problem, you must use an anti-dandruff shampoo. Your shampoo must be specific to the hair problems you face so that it will be easier for you to get them treated. 

Excessive yeast growth: If the yeast growth is more in your scalp, there are more chances of dandruff problems. It is mainly due to yeast growth or fungus-like Malassezia. If your scalp is sensitive to this, the result can be a dandruff problem. So, keep a check on the infection to prevent this problem from growing bigger. 
So, these causes are unavoidable, but we can make some difference by using anti-dandruff products, especially shampoo. 
Why try anti-dandruff shampoo?
If you have questions about the use of anti-dandruff shampoo on your hair, then the points below will make it clear to you. Take a look:
Gives the required moisture to your hair

: We have already discussed that the dry scalp is the primary reason for this, and we cannot run away from this. This means the lack of moisturizing element in your hair makes your scalp dry. It would help if you corrected the dryness so that it can be handled with the best. 
Gives you moisturized hair: The anti-dandruff shampoo helps in keeping your scalp moisturized so that we can avoid this situation from happening. Not only this, it keeps your hair hydrated as we need to correct the dryness if we want to get rid of dandruff. 

Making hair healthy: As our skin needs moisturization to avoid dryness, our hairs too need them. The hydrating shampoos keep our hair moisturized and make them healthy. 
Relieving us from the itchiness

: We all know that whenever there will be dryness at any part of our body, say skin or scalp, we feel like scratching it all day, every day. The dry flakes make us scratch our heads until we feel satisfied, which looks so embarrassing. 
Anti-dandruff shampoos help in making you feel relaxed from the itchiness that it causes. It helps relieve us from scratching our scalp so that we don't feel embarrassed more. 

Minimizing the dandruff flakes: The dandruff flakes are attached to our scalp, and when we scratch it more, it just gets filled in our whole hair. To avoid this situation from happening, we must start making use of this shampoo. We can keep our hair free from this with the help of the anti-dandruff by Ketomac. 
Reduces the redness on the scalp

: The scalp also becomes itchy and red when we scratch it due to the dandruff problem. The redness on the scalp is widespread when your scalp is itchy. It would help if you made some efforts to reduce the redness. For this, you must try-
Only trust anti-dandruff shampoo: You must only rely on anti-dandruff shampoo when it comes to the dandruff problem. If the problem is severe, you may have to see the doctor. But never miss washing your hair with that shampoo. 

Reducing the redness: The redness on the scalp can be managed when we start using the anti-dandruff shampoo. If you did not use this shampoo, you would not get any relief from the itchiness or redness. But shampoo can make it more relaxing for you. 
Managing the oil production

: The oil production is natural in the scalp, but if it goes high, you have to look for it. The excess oil secretion can also make the dandruff situation worsen, and you need to keep a check on it. 
Control the oil secretion: The oil secretion in the scalp cannot be controlled without using the best anti-dandruff shampoo like Ketomac. The natural oil secretion in the scalp is maintained, and the excess of it is controlled with the use of shampoo. 

Not taking the natural oils: The natural oil in the scalp should never be washed away. But using shampoos with chemicals in them can even take away the required oil from the scalp. But the anti-dandruff shampoo is the best option to manage the oil secretion. 
Can it be treated naturally?
Many of us constantly search for natural ways with which we can treat this problem. The natural solutions will take some more time to treat your hair but will treat it. But it would help if you never stopped using Ketomac's anti-dandruff shampoo alone in these natural ways. Take a look at more accessible ways to treat dandruff-
Trying the coconut oil hack: We all have heard about coconut oil's advantages and magical benefits for our skin, hair, and health. You can also try this hack for your dandruff issue. The dandruff problem is mainly due to the dryness on the scalp, and this oil helps take away the dryness. It will hydrate and moisturize your scalp and prevent those white flakes from accumulating. Massage your hair with this oil and also keep it in your hair for some hours before rinsing your hair. 

Trying the easy Aloe Vera hack: Aloe Vera is a widespread remedy we usually miss. We should never skip the use of this remedy as no other treatment is as easy as this hack is. This natural herb is used for numerous purposes and in many creams and lotions. In case of fungal infections, scalp infections, or other skin conditions, this hack works the best. You can start applying the gel to your scalp and hair roots to see some results. It also holds antibacterial components that can reduce dandruff severity. 

Giving a try apple cider vinegar: So, the ACV or apple cider vinegar is also used for many hair problems and can help us in many ways. Vinegar can help us control the dandruff issue by managing the oil secretion on the scalp. This vinegar can also help remove dead skin from the scalp, which will make your scalp healthy. Apple cider vinegar can also control the fungus growth on the scalp, causing the dandruff problem. 

Intake of omega-3 fatty acids: Omega-3 acids can also help us treat the various deficiencies in our bodies. Many hair problems are due to the deficiency of this fatty acid in your body. The Omega-3 acids also help keep your hair moisturized, dandruff-free, and stronger. This acid reduces the inflammation in the skin caused due to dandruff. You can take supplements of this, or you can start consuming the food with this acid. 

Managing the stress levels: The stress levels in our body can affect our health, skin, and hair conditions. We need to check our mental health so that nothing can take our mental peace. Taking too much stress is not good, so we need to manage it. Stress can even cause us mental trauma as well as can cause hair issues like dandruff. Even the dandruff issue can worsen if we take the stress. 

Use anti-dandruff shampoo: We all know numerous varieties of shampoos are available all around us, but we need to find the one that is healthy for our hair. We must use anti-dandruff shampoo for our hair to keep the dandruff problem at bay. This is only possible with the Ketomac 

anti-dandruff shampoo for men in India

.  
With the help of these, we can make our dandruff problem minimized. Also, try the best shampoo by Ketomac for the dandruff issue. It will manage the oil and dryness of the hair. Not only for the people suffering from dandruff, but it is also suitable for those who are not even suffering from it. This means it can also prevent the dandruff problem from happening also. So, don't forget to try the best anti-dandruff shampoo also with other natural remedies. Make sure not to lose patience as every good thing take time to process. So, make use of other products offered by Ketomac like antifungal cream and tablets for other issues. Use your internet to find product variety, range, uses, and other related things.