Hair Spa Treatments To Try At Your Home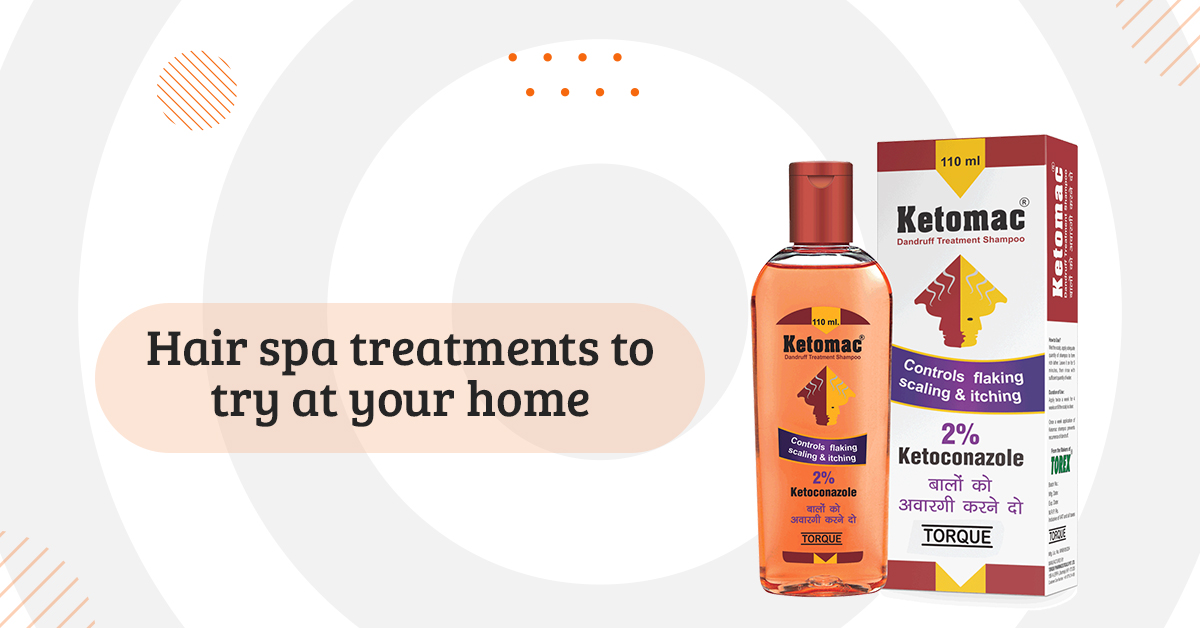 We all are tired of tying our hair in a bun or a ponytail as they are not perfect for keeping them open to flaunt. We have seen girls flaunting their good hair days with their selfies, whereas we have just tied our hair in a tight bun. All our hair problems can be kept at bay if you understand what healthy hairs are and how to get them. Most of us just compared going to salons with getting a big hole in our pockets, which is why we skip going there. 
You must know that hairs are beautiful and all we need to do is make an effort to keep them healthy. We should never compare our hair with anyone as every hair type is different yet beautiful. If you also want your hair to be good and healthy during this festive season, go through this article for more details. Our hairs are attached to many hair issues, including dandruff, hair fall, dull hair, grey hairs, etc. All these issues need some hair pampering to get rid of them. You may have heard about so many hair products that claim to be a solution for all these. 
But we cannot rely on them quickly as they may or may not be helpful for us. Ketomac hair shampoo can be the best choice for all your hair problems. You must know about hair spa benefits well before you think of getting the one done for your hair. A hair spa remedy is a rejuvenation treatment for our hair that we must get after regular intervals. 
Hair spa treatment?
You may have heard about the hair spa treatment, but we all think it is unique that we cannot try on our own at home. If we get the hair spa treatment done from the salon, it usually begins with the hair oiling, massaging the cream, and steaming. It is a kind of therapy that refreshes, rejuvenate, and repairs your hair. So often, we realize that our hair is damaged, but worse than everything is, we do not even make a single effort to do something about it. 
But now you can opt for hair spa sessions even at your home. Yes, you heard right hair spa treatments can also be performed at home without sending vast amounts of money outside. Nobody has enough time to find the right salon and wait hours to complete a hair spa session. That is why we can try the best possible hair spa treatments that can be done at home. Take a look at how to do it, what to need, and for what purpose to perform it-
For the protection of damaged hair: So, having damaged hair is nothing new as we have seen people complaining about broken hair so often. Avocado is one of the superfoods for not only our health but also our hair. It may seem a little weird to use avocado on our hair. But that's true and look how to do the hair spa using it. For this purpose, you will need one small ripe avocado that you will further peel, chop, and then mash. You have to mash the avocado right so that we can get a smoother paste of it. Try to mash it properly without leaving the lumps behind. 
After you mash it properly, add the curd to the mixture. Again, mix the mashed avocado and curd well to blend well. Let it aside for some time so that both the ingredients can be mixed well and become active. To start the hair spa, first, we need our hairs to get steam before applying the mixture to them. At our home, for the steam, we can use a hot bowl of water by keeping it within our reach. We can keep our heads towards it in a bending position and use a towel to keep the steam within. In this way, you can take around ten to fifteen-minute steam sessions. 
After this:
Wait for the next ten minutes to apply the prepared paste.

Spread it evenly and keep it in your hair for around 30 to 40 minutes.

Rinse it with shampoo and prefer cold water only while washing. 
For the treatment of dull hairs: The way we feel dullness on our skin, we can feel the same on our hairs. The dull hairs look dead and weak and need special care. For this purpose, we will start our hair spa using the most accessible ingredient, banana. 
To begin, start making a paste of banana by mashing it out using a hand blender. Make sure no lumps are left behind when you mash it. After this, add some drops of olive oil to the mashed banana and mix it well. Keep this prepared mixture for some time before applying it. 
Taking steam before the mask will add more value to our hair spa. For this treatment, use the homemade steam method by using a pot, water, and a lid to cover; after that, allow the steam to come in contact with your hairs by removing the lid. Continue the steam session for about ten minutes, and then wait for the next five minutes to apply the mixture. 
Apply the prepared mixture to your hair, including the roots and strands. After that, please keep it on your hair for thirty minutes before wash. Washing your hair after this treatment will be a little clingy as the banana may have stuck to your hair after drying. Removing the banana mixture from your hair may take a while, but it is worth it.
As an outcome, you will see that the natural oils in bananas have nourished your hair and that olive oil helps build their elasticity by adding life to your dull hair. 
One more treatment for dull hair- As we all know, dull hair is the most common problem we hear about from people. No matter what the gender is, we still face the dull hair problem so often. One of the best ingredients to deal with the dullness can be fenugreek seeds. They are essential ingredients in kitchens and can serve our purpose as well. Not only this but this ingredient is known for many more benefits for your hair as well. It will control the oil secretion in your hair so that we can avoid the problem of dull hair. 
It helps control the dandruff issue so we can finally get some relief from the white flakes. You can get rid of the dull hairs and can get the shinier hairs, then try this hair pack. To begin with this pack, we need fenugreek seeds, which must be soaked overnight. You can take a bowl, add some fenugreek seeds, and let it soak overnight. Please soak them overnight rather than for just three or four hours. 
The next day, sieve the water from the seeds, and the next task is to put the soaked seeds into the mixer to make the smooth paste. So, when the fenugreek seeds take the form of a paste, the next step is to add some yogurt and honey. Let the ingredients soak well and for this, keep it aside. Before applying this, take the hair steam; for this purpose, you can use boiling water. Use a towel to get the steam in your hair by using a utensil filled with water and a towel. Make sure to do this with full precautions to avoid any burn injury. 
So, after this, evenly apply the paste to your hair, keep it for thirty minutes, and then wash. All the ingredients used in this pack are good for our hair and help us quickly avoid dull hair issues. 
To treat weaker hair roots: If you also want your hair roots to be stronger, you must try this hair mask. The weaker hair roots make us suffer from many issues, including hair fall, brittle hairs, and split ends. You can try this hair spa, and then you can use one of the most known oils: olive oil. So, whether it is about your diet, health, body, or hair, olive oil has so many benefits that we can't deny its use. Olive oil is used to strengthen your hair roots. Olive oil can be used in the place of other oils that you use for hair massage. You need to massage your hair with this oil before taking the steam. Make sure you massage your roots well with the oil and let it absorb in your hair. You can even leave the oil in your hair overnight as there is no loss in doing this. But you can apply it evenly on the tips and roots of the strands for one or two hours. 
Afterward, go for the steaming, using a hot towel and boiling water. Make sure it enters your hair well so that you can get the benefit. You can make a hot towel, dip it in the boiling water and squeeze the extra water from it. Then wrap your hair with the towel and keep it up for about twenty minutes. After that wash, you will notice the change in how better and softer your hair becomes after this. 
To boost hair growth: Very few people who do not like long hair are long-length hair lovers. You can also boost your hair length with the help of a simple hair spa remedy at your home. For this purpose, we will make use of coconut. You may have heard about a lot of coconut oil, which does wonders for our hair. By making our hair smoother and stronger, it can also boost hair growth. 
But for this hair pack, we will use a little different ingredient: coconut cream. You only need one component for this purpose which is coconut cream. First, like all other hair spa sessions, you will use a home hair spa remedy for the steaming. Use a towel, a lid, boiling water, etc., for the steam; rest for ten minutes after giving steam to your hair. After this, apply the coconut cream to your hair and keep it in your hair for at least one hour. This hair spa remedy will be beneficial in promoting hair growth. 
To improve hair texture: We all want our hair texture to be soft, shinier, and smoother so that we never get tired of touching them. We are having the subsequent hair spa treatment available to get this one. In this, we will use the two most potent ingredients: egg yolk and Aloe Vera. You all better know about the perks of these two ingredients that we can't miss using on our hair. Both these can do wonders. Egg yolk also works as a natural conditioner for your hair. 
To make this mixture, you need fresh Aloe Vera gel, egg yolk, and olive oil. Combine all these ingredients and make a paste to apply to your hair. Use a shower gel to cover your head after applying this paste, and wash it off. Repeat this once a week for the best results. 
You can try hair spa dandruff treatment to treat dandruff and other hair issues. Ketomac is the best buddy of our hair, and that is why we must add it to our haircare routine. Make use of the antidandruff shampoo on your hair by Ketomac to solve most of your hair problems.