Hair Spa And All You Need To Know About It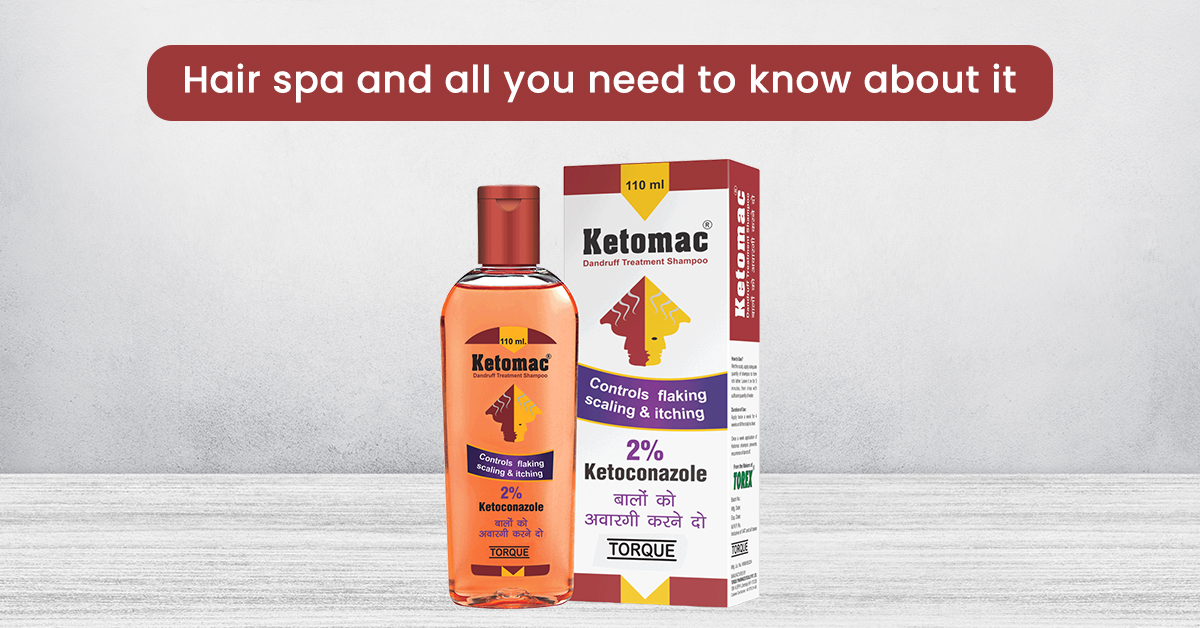 Remember the olden days, when our ladies had lustrous hair even after not appealing to any expensive products. All we did for hair was a weekly massage, followed by a hair wash. This massaging of hair does not only nourish the hair but also takes care of several hair concerns. In today's time, where all of us are leading a hectic lifestyle, taking time for head massages is a luxury we cannot afford all the time. A hair spa is an excellent option for others who don't have time.
A hair spa works on solving the same concerns as your hair massage would. One can choose to go for a hair spa dandruff treatment for smoothening, calming an irritated scalp, hair fall, for colored hair, and even for general relaxation. Everyone knows that treatment exists for dealing with issues, and one can get it done, but no one tells you what these treatments result in and how they should be effectively done. This article will help understand what a hair spa is and its benefits.
Let's start with understanding what a hair spa is? Like several other treatments that have a rejuvenating effect, a hair spa is also a treatment that rejuvenates you and provides several other benefits. The massage immediately relaxes your scalp and hair, making them soft and lustrous. Another essential benefit of getting a hair spa done is it works well in reducing the effects of sun, dirt, and pollution.
Do you need a hair spa?
If you are dealing with some of the below-mentioned concerns, a hair spa is worth trying and could give you effective results in no time. The known concerns on which hair spa works are as under:
Hair thinning
Breakage of hair
Dull and dry hair
Receding hairline
Itchy scalp
Oily scalp
dandruff
Hair fall
Chemically treated damaged hair due to hair coloring, straightening, or any other form involving high heat or chemicals applied to hair.
In all the abovementioned cases, a hair spa can effectively work and nourish your hair.
Types of treatments
If you are unaware of the treatment that would work best for you or someone who has more than one concern to take care of, it's time you visit a salon. At the salon, a hair spa professional would check the quality of your hair. This examination can either be done with an instrument or with a naked eye. Based on his examination, he would suggest the best-suited hair spa treatment. Going for specialized hair spa treatment is always better since you directly target your concerns. Most importantly, post the treatment, you have a clear comparison of your before and after.
Let us discuss six majorly known types of hair spa treatment:
Anti-dandruff treatment: dandruff is a common concern for most people. Dandruff can be a reason for significant discomfort and majorly lowers your self-esteem. Several products from renowned brands have made it to the market and are effectively used in hair spa treatments to solve the concern. From several feedbacks that may have come, Ketomac dandruff treatment shampoo has been known to work well in treating and preventing dandruff. The concerns like itching, scaling, flaking, etc., are associated with it. The product contains 2% ketoconazole as its primary ingredient, making it effective against dandruff.
Calming treatment: An itching scalp cause a great deal of discomfort, and when you are out and about with people around you, this itching can be a considerable embarrassment too. Several salons have come up with hair spa solutions, which not only calm your itchy scalp but also calm any inflammation that may have come due to excessive scratching.
Hairfall treatment: Hair is one such thing that can easily stress out even an average person. When you see your strands falling off your scalp, it stresses you out. Active ingredients are now added to products used while hair spa treatments that strengthen the hair follicle and stop or prevent any further hair fall. One of the known active ingredients added is omega-3 fatty acids. Hair fall in most cases also leads to hair thinning; if you have reached that stage, you could also consider getting a hair thinning treatment. One should not forget that these treatments are not overnight magic and require some time to fetch the best results for you.
Hair balancing: When we talk of hair balancing, we mean to effectively clean any residue on your hair, including unwanted oil produced by your scalp. Consider you are someone that has an oily scalp. In most cases, this oily scalp would lead to itching and even dandruff. Getting a hair balancing spa would clear your scalp and refresh it completely. The ingredients used in this would not be extremely harsh on the scalp and would make your hair soft and lustrous.
Colored hair treatment: Coloring involves the application of different chemicals to scheme the desired results. Even though collaring your hair gives you a newer and fresher look, it dramatically damages your hair, and even worse damage is done when the individual doing your color is not a professional. As a result of coloring, it becomes scorched and prone to breakage. Now one such treatment that can be done is to treat the effects of coloring on hair. To maintain the shine and the radiance of the color treatment, you could also opt for a hair spa treatment which would protect you from any damage caused by pollution or sun. These treatments add a protective layer to your hair and ensure no fading of your colored hair.
Smoothening treatment: For the management of hair, individuals look forward to getting smoothening done. Not only does the treatment make your hair more manageable but also healthy-looking and soft. This treatment is mainly preferred by people with dull and damaged unruly hair.
As home care of all these treatments, you could even ask your salon to suggest some products that help increase the longevity of the treatment.
Hair spa at home
Not always would you have the time and make an effort to go to the salon and spend a fixed amount of money. Hair spas now can also be done at home with the use of good products available in the market. The results and the level of reaction you get sitting in a salon would be different, but if good quality products are used, the overall health improves.
Home hair spa majorly is done in 6 steps, and these steps are as under:
Oil Massage
Steam or hot towel on hair
Using appropriate shampoo to get hair spa benefit
Application of hair mask
Conditioning the hair
Final application of serum
Now that we know the different types of hair spas that can be done, let us discuss some benefits of getting a hair spa done.
Benefits of getting a hair spa
Most of the time, one would assume that since the hair spa treatments are expensive, they should be avoided. People are not fully aware of the benefits of getting a hair spa done. One can always select a hair spa depending upon one's needs and budget. These treatments do not just improve the well-being of hair, but they also treat individual concerns of the person. If you think you are not ready to shell out such an amount of money, you can always go for cheaper services but more often, go for an advanced service once in a while.
Some known benefits of a hair spa are as under:
Condition of the hair: One of the most common benefits of getting a hair spa done is adding a lot of moisture to the hair, making it soft and nourished. The ingredients added in products used for hair spa are kept in my improvement of hair health.
Balances the scalp: It doesn't matter if you have an extremely dry or oily scalp, and getting a hair spa treatment once in a while would only balance the number of excretions made by your scalp. If let us suppose you have a dry scalp, the products used will add moisture, and if you have oily, the products will wash away the excess oil, thereby balancing out the scalp.
Improved blood circulation: Getting a head massage, in general, is an excellent way of promoting blood circulation in the scalp. This improved hair circulation, in turn, promotes hair growth. It would help if you considered getting a hair spa done regularly to grow hair faster.
Restores damaged hair: Just because we get several chemical treatments like hair coloring, bleaching, etc., our hair tends to become extremely damaged. Apart from these, several other factors like heat, stress, unhealthy diet can also lead to such conditions. A hair spa helps in restoring your helps condition.
Improved scalp condition: One may deal with several issues related to hair and scalp, and these could be premature greying, breakage, hair fall, and dandruff, to name a few. You can choose a hair spa treatment based on what your concern is.
Relaxation: Several techniques are used when getting a hair spa done, and one of them is getting your scalp massaged. This massage not only improves the scalp, but it promotes blood circulation and, most importantly, relaxes the muscles. A hair spa is said to reduce stress levels in an individual greatly. Hair massage is not restricted to your scalp but also your neck and shoulder, releasing any tension or stiffness.
Myths related to hair spa
Expensive: it is a widespread belief that getting a hair spa done professionally is an expensive job, but on the contrary, when we look at it, the cost mostly depends upon what the length of hair is, what the treatment aims to treat along with where the treatment is being done.
The durability of the spa
In most cases, a good hair spa would easily last you for almost 15 to 20 days, but this also depends on the quality of products used. Also, very importantly, you must follow an excellent after-spa regime. Using quality shampoo and conditions will ensure that the longevity of the hair spa is increased.
Frequency of getting a hair spa done
For someone who travels often, it is ideal that a hair spa is done at least twice or thrice a month. A hair spa treatment, in most cases, would have its full effect for at least 15 days, and if you feel that it's a task and you are not willing to spend that amount of money, you should try and at least get it done once a month.
Washing your hair after the spa
The most effective way of knowing an answer to this question is to consider talking to your spa specialist, which would be based on the treatment you would have done. Ideally, your first wash after the hair spa would be after 3 to 5 days to improve the results.
There is no specific age limit for getting a hair spa done, and the only thing you should remember is that the treatment should not contain harsh chemicals. The best person to speak to about this is your hair spa professional.
Let's conclude this post by saying that a hair spa treatment is a great way to keep your hair & scalp healthy and nourished. Whether you get it done at home or go out for it, make it a point to include it in your routine.
Not just a good hair spa but also post-treatments are essential. After consulting a specialist, you should read the ingredients and buy quality shampoos, conditioners, masks, or serum. Taking care of these basics would ensure your hair looks healthy and lustrous.