How Ketoconazole Shampoo In India Helps To Fight Against Dandruff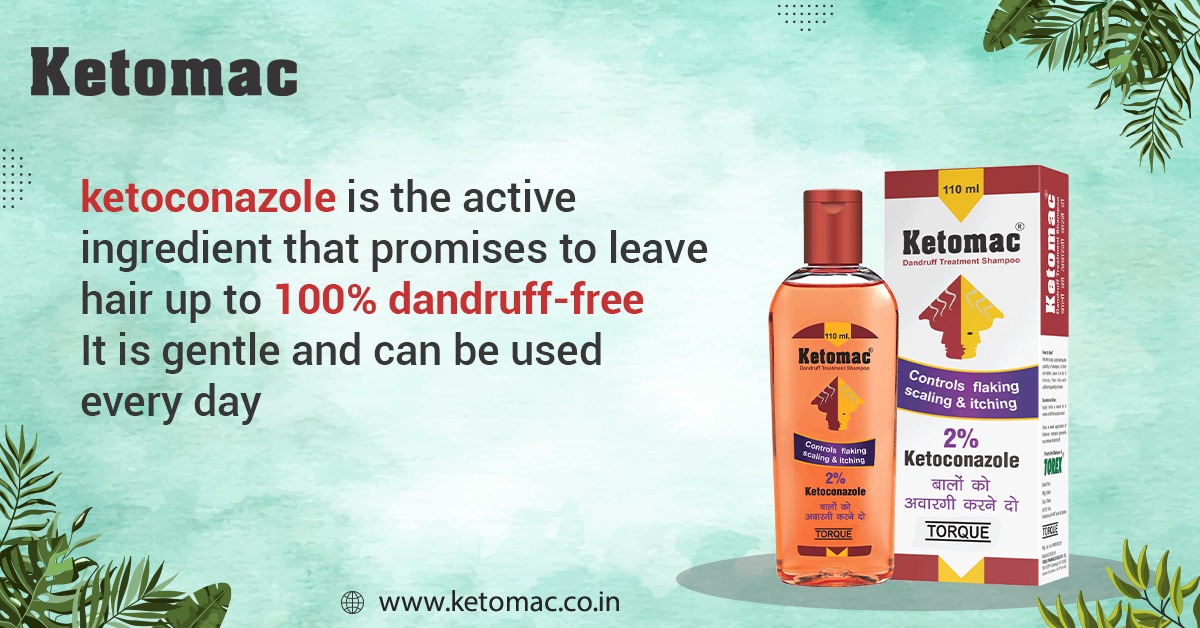 We all want to have the perfect body, skin, and hair so that we can flaunt our style everywhere. But in reality, none of us even make any effort in getting things done right to get all this. That is why we need to check our lifestyle habits to have better hair, skin, and health. Our hair adds a lot to our personality, so we all focus on them.
Have you wondered how it will feel when you see the white flakes scattered around your shoulders? Well, we all know that nothing could be more embarrassing than this. The hairs are also attached to so many issues that people experience in their routine life. From thinning of hair to dandruff problems, we face many things. But one thing that we must focus on is making some efforts to get rid of such problems. So many brands, products, creams, etc., are available in the market that claims to be perfect for your hair. But we cannot trust them so quickly as we cannot put our hair at risk.
Ketomac is one of the best brands to trust regarding our hair. Their products are specially designed in a way that they can solve all our hair issues in one go. This means many problems but one solution that is Ketomac dandruff treatment shampoo. There are so many reasons why we all experience so many hair problems, and some of the causes of experiencing different hair problems are:
Not taking care of your hair: Most of the time, we skip taking care of our hair as we only think our skin needs care. But in reality, our hair needs care as well. They are also so sensitive that they will fall if you do not care for them. So, one of the major causes of facing hair problems is underestimating the hair care routine.
Skipping the hair oiling: Most of us constantly run away from the oiling part as sticky is not in trend. We don't want our hair to look oily, so we like to skip the oiling part. But the reality is oiling is the best part of our hair care routine. It can nourish our hair and provide them with nutrients and care. But it is only best if you have done it with the best oil. You can try massaging your hair to strengthen it and oiling it once or twice a week for better results.
Brushing too often: If you think your hair looks good, you will keep brushing to make it look better. But brushing your hair too often means indulging them with tangles and resulting in hair fall. Using a hard hairbrush can also make your hair fall and weak. Many people try to remove Dandruff from their hair by combing them too often. But this can even make the dandruff situation worsen. You must avoid brushing too often so that you can keep them healthy.
Not using the right shampoo: Many shampoos are available in the market, but choosing the right one is essential. If you think you can only use Ketomac shampoo if you have a dandruff problem, you are wrong. You can use this shampoo to prevent the dandruff problem from happening. You can try the best shampoo by Ketomac for your hair. It includes Ketoconazole which can keep the dandruff problem away from your hair. It is the best ingredient to save your hair from Dandruff.
So, these are some of the causes of the hair problem that we need to keep in mind to get rid of these issues. Trying the best antidandruff shampoo by Ketomac is the best thing that we all can do. So, if you are wondering how the Ketoconazole dandruff shampoo can help you, then here are some of the benefits of it then you must know:
Solving your hair problems: We face so many hair problems relating to our hair. These are grey hair, oily scalp, dandruff, hair loss, etc. Using the Ketoconazole shampoo means you are stepping ahead to eliminate all these issues. One shampoo is the solution for your many skin issues in one go. One of the best benefits of dandruff shampoo is that it takes care of our hair and protects us from various hair issues.
Better for your hair health: Doing nothing but washing your hair with dandruff shampoo means doing so much for your hair's health. This shampoo is the best treatment for your hair and the health of your hair. It promotes your hair growth and makes your hair healthy. Healthy hair means happy hair, and we can keep our hair happy and healthy with the Ketomac antidandruff shampoo. It can keep the hair bouncy and robust.
Maintaining the proper moisture: Your hair also requires moisture to be healthy. The proper moisture is the way to healthy hair, and Ketomac dandruff shampoo helps retain the proper moisture level in your hair and promotes its growth and follicles health.
Softer hair than ever: You will see how softer your hair becomes when using the right antidandruff shampoo. Using Ketomac antidandruff shampoo can make your hair stronger and super softer. You will love to touch your hair as it will feel so soft and bouncy.
Unbeatable changes in your hair: Once you start using the Ketomac antidandruff shampoo, you will notice the changes in your hair. It can reduce the hair fall problem to the minimum to save your hair from falling. Not only this, but it is also suitable for the oily scalp problem. You will see how the dandruff problem is treated automatically when using this shampoo. It can prevent and even cure the dandruff problem so that you don't have to look at your shoulders next time you go somewhere. Bouncy, softer, firmer, and healthier hair than ever are the changes that you can't miss noticing.
Reduce itching due to Dandruff: The dandruff problem does not come alone; instead, it also causes the itchiness in your scalp that makes you scratch your scalp continuously. The antidandruff shampoo by Ketomac can reduce that itching so that you can stop scratching your head.
So, this means the Ketomac shampoo benefits are so many that help us to get the best of our hair. Ketomac keeps the needs and problems of the people in mind before they design their products, and it is the best brand to rely on for your hair. Now you can use this shampoo undoubtedly anytime, anywhere to say goodbye to Dandruff.
Even those not suffering from Dandruff can use this shampoo to prevent the dandruff problem, keep their hair softer, promote growth, and promote scalp health.