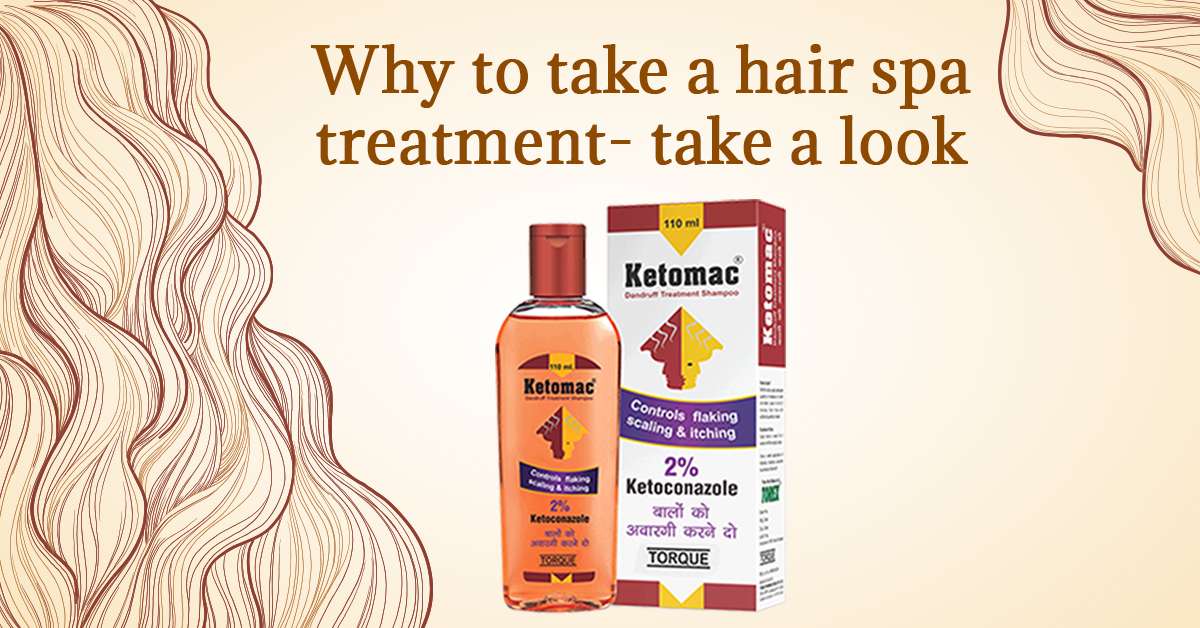 Whenever we see someone has long and shiny hair, we always wish of having them. But we all cannot be blessed with the good things altogether, and that is why God wants us to do some effort to achieve whatever we want. No matter is it about a dream of earning more or a dream of having long and healthy hair, the mantra behind this will be the same. If you see someone flaunting their healthy long hair, then it is because they have made efforts to get their hair like that.
You can also do this with some effort. There are so many hair care product brands available in the market that claims to be the best for our hair, but not all of them are the best. You need to try them carefully before you finally start reliving them. Ketomac is one of the most admiring hair product brands that you can trust for your hair anytime. You can get solutions to your dandruff problem, hair fall, and so other problems with your shampoo. One more thing that can work no less than magic for our hair is a hair spa. It comes as a treatment for our hair which we can easily get from the salons.
You can read more on the hair spa benifit list before you finally make up your mind about it. You can even try the hair spa remedy at your home as well. The salons have started giving various hair spa treatments for the different problems we face relating to our hair. For example, you can get a hair spa treatment if you are facing dandruff, hair loss, hair thinning, rough hairs, damaged hairs, etc. If you are looking to try this treatment at your home, then you can. You can easily find the hair spa creams available in the market.
Those creams can be used for the purpose of a hair spa. But before starting it at your home, you can read more about how to do this treatment at your home. So, the basics of the hair spa treatment are listed below for more reference.
Understanding what it is- So, the hair spa treatment is a massaging treatment that makes use of hair spa creams and also hair oil to massage your hair. Massaging is kind of the best thing for our hair that is helpful in multiple ways. You can read how to massage properly at home for your hair so that you can stimulate the benefits of the hair spa at your home as well.
Focusing on the relaxing points: Most of us just go for the hair spa treatment when we are feeling tired. It is a kind of relaxing session that helps us in calming our minds. There are some points that are pressed during the hair massage. You can also do it at home.
Also, a hair mask: You must also use a hair mask on your hair during this session. You can make one for yourself at home using home ingredients or can buy from the market as well. Various hair masks are available that are meant for the different hair problems we face, so try them too.
Hair steam is also essential: So, the hair spa treatment is incomplete without the hair steam and that is why we can't miss it. The steam helps in promoting hair strengthening, and that is why it is given. After the massaging section, the process of steaming begins. We are not having the steaming instruments at our home that are usually found at the salons. But we can definitely find an alternative to this. You can use a hot towel for steaming purposes.
Be slow and don't rush: Try to be slow and steady when it comes to massaging your hair. Doing it in a hurry will just ruin the whole thing. Hair is very sensitive and should be treated accordingly.
So, keep these points in mind before beginning the hair spa session at home. If you are still thinking about whether to go for the hair spa or not, then here are some of the plus points of this treatment that we all should know. Take a look:
Focusing on the hair roots: Whenever we massage or apply oil to our hairs, we just focus on the hair strands or tips. Our focus never goes on the hair roots, which are the most important part of our hair. No matter whether we are talking about plants or hairs, the roots are the most integral part. It is important to build up the roots so that every branch of hair can be healthy. The spa helps in strengthening the roots and the hair follicles from their roots. Taking it after regular intervals will definitely work best for this.
Boosting the blood flow on the scalp: We all know that the blood flow continues even on our hair scalp. But the slow blood circulation also makes your hair weak and dull. It is important to focus on the blood circulation in the scalp so that you can have a healthy scalp. The hair massage and spa will help in opening the pores and boosting the blood flow.
Soothes damaged hairs: Damaged hairs are so common problem nowadays; have you wondered why? The main reason for this is the excessive use of heating appliances like curlers, hair dryers, blow dryers, straightener, etc on hair. These things have made our hair damaged. Can you bear the heat of a curler on your skin? The answer will be no, as it will burn your skin. The same is how the curler treats our hair; when we use it just burns our hair. All the appliances above mentioned are doing the same thing with our hair. Hairs are very sensitive, but we do not treat them. That is why hair issues are on the rise every day. The hair spa treatment can treat your damaged hair to some extent. But if they are too damaged, then they must need some extra precautions and treatments to be cured quickly.
Managing the dry and frizzy hair problem: Most of us find our hair unmanageable most of the time due to fizziness or dryness. The dry hairs are so frizzy that you will not be able to style them. The hair spa treatment help in managing such hairs with the proper nourishment. Managing dry or frizzy hair is a real struggle, and it shows you must get a hair spa treatment for a regular period.
Unclogging the scalp pores: As our skin is having pores our scalp is also made of pores. The dust and oil are known to block our skin pores; they do the same thing on our scalp pores as well. We never cover our hair whenever we are in pollution, dust, or under sun rays. That is why we need proper hair spa treatment to help us in unclogging the pores and let our scalp breathe naturally. Unclogging also helps in stimulating the hair growth of new hairs. This means it is very beneficial for our hair.
Preventing and treating the dandruff issues: The dandruff problem is one of the biggest problems of all time. We can never avoid this problem to happen; rather, we have to accept it. But with the help of Ketomac's antidandruff shampoo and hair spa treatment, we can get treatment for dandruff. This problem is quite embarrassing as well as we do not like the white flakes falling on our shoulders when we comb, walk, or even do nothing. They just make a home in our hairs and look like white flakes attached with glue on our scalp. The dandruff problem can be best treated with a hair spa. You must stick to the use of anti-dandruff shampoo so that you can treat it.
Boosting the growth of hairs: Most of the time, we just assume that our hairs will not grow more after a point. But the reality is your hair never stops growing their speed just diminished when the hair issues increase. You can still grow your hair if you are ready to do some effort. Stimulating the growth of our hair is such a dream for many people around us. We just want to have long and thick hair so that we flaunt. But unfortunately, the hair issues did not allow us to do so. So, we can take the help of the hair spa treatment to find how our hair grows faster when we start taking it at regular intervals. Promoting blood flow and taking away the impurities from our hair helps in growing new hairs.
Keeping a check on oil secretion on the scalp: There are some people who face oily scalp problems. Their hairs look greasy all the time even after the immediate hair wash. All those people, searching for the treatment of oily scalp can now rely on the hair spa. They can take this therapy so that the oil production in their scalp can be managed. It is very important to manage it so that you can have healthy hair as well. It can regulate and lower the oil secretion and helps in getting normal hairs.
Making your hair and scalp healthy: We all want to have a hair scalp that is free from hair problems. But very few of us are truly blessed with such. But hair spa therapy makes sure that we can get healthy hair with this. When the right nutrient in the form of hair spa cream or oil reaches our hair, it boosts our health. It works as a medicine for our hair that we should not resist taking. It promotes the overall health of our hair by helping us grow the newer ones and reducing hair fall. Making hair stronger, and so on.
Lowering our stress levels as well: If you think the hair spa session is nothing to do with our stress levels then you are wrong. Stress levels can be managed with the help of a hair spa. It works as a rejuvenating session for our minds. You will feel so relaxed and calm after attending this session. Many of us face routine headaches due to personal or professional problems but we can get instant relief from such headaches with the help of a hair spa. A long head massage session will help in lowering our stress levels. It will make us feel refreshed and calmed.
Works best for coloured or dyed hairs: For all those who have taken some of the other hair treatments like Keratin, rebounding, hair colouring, dye hairs, etc the hair spa is a kind of life saviour. Whenever we take such treatments on our hairs chemicals are used on our hairs. They can make our hairs weak, brittle, and thin. To protect our hair from these issues we must definitely get a hair spa session. It will keep your hair nourished and healthy as required.
So, the above-discussed points are so helpful in making our decision of taking a hair spa. If you are suffering from dandruff, you can choose hair spa dandruff treatment. A hair spa is not a very costly affair as its costs vary from salons to treatments we choose. But it is affordable and should never be missed if you want healthy hair. You can also try Ketomac anti-dandruff shampoo which is good for the oily scalp, colored treated hair, and almost all types of hairs. All your hair problems can be treated if you stick to shampoo for a regular time period.
Ketomac is our hair's best friend which comes with a shampoo that can treat and solve so many common problems relating to your hair. From hair loss to dandruff problems, it can treat all your issues. Also, try other products by Ketomac like anti-fungal cream, tablets, etc for your other skin problems.