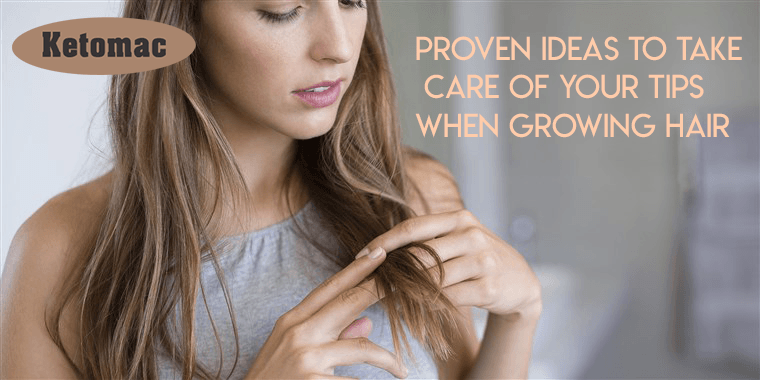 Most women must have experienced rough and split ends that hamper the appearance of their beautiful locks and make it longer to grow hair after a certain length. Your ends may need help which you might not be ignoring. The ends of our hair are the oldest part of our hair, making it evident that they need extra care and love. Retaining the length of your hair depends on the health of your tips. Thus, if you want to grow your hair long, you need to focus on hair care tips for growing long hair.
To maintain the texture and quality of your hair, from roots to tips, you also need to choose an appropriate shampoo. Ketomac shampoo is considered one of the ideal shampoos for long and healthy hair.
Essential Hair Care Tips for Growing Long Hair:
Moisturizing and sealing
Dry hair can cause breakage, which can further lead to split ends. It would help if you found a water-based moisturizer with natural oil to protect your ends from breaking and splitting, which will allow your ends to remain hydrated and grow fast.
Trimming
Many hair experts have said that trimming is essential for growing your hair fast and keeping them healthy. Split ends make the hair dull and lead to tangles. Every girl loves long hair, but there is no point in holding onto the length just to have long hair if you have damaged ends. Having healthy hair should be a priority. You must trim your hair every 3 to 4 months for getting rid of the dull and rough ends.
Protection
For getting healthy ends, protection is the key! Before using any styling products such as curlers, flat iron, and blow drier, you must apply a quality heat protector to prevent damage to your hair.
Conditioning treatments
It is mandatory to indulge your hair in some deep conditioning treatments. You can make masks at home and apply them at least once a week. The egg is also considered beneficial for your hair. Since the tips are the oldest part of your hair, they have experienced the most wear and tear and need extra care for combating wear and tear. You can also apply a deep conditioner to the ends first and then work your way up to the roots. There are special shampoos and conditioners for colour-treated hair; make sure you invest in one.
Cleansing
For keeping your strands and scalp healthy, you need to cleanse them thoroughly. Ketomac is one of the best scalp shampoos available in India, which takes care of your scalp and keeps your hair healthy.
Diet
Apart from what you do externally, it is also essential to consume a wholesome diet to keep your hair healthy. You must make many fruits, vegetables, nuts, eggs, and beans a part of your diet.
Keeping your hair dandruff free is essential as part of your complete hair care routine. Use Ketomac anti-dandruff shampoo as it is gentle on hair and effective for getting rid of dandruff and other scalp conditions.